Flu Information
Dear Parent/Carers,
We have a number of children off at the moment, some of whom are showing flu-like symptoms but as yet we have no further information. We are working hard in school to ensure the children in school are demonstrating good hygiene and taking all appropriate precautions.
If your child has any of the following symptoms: fever (37.8⁰C or higher) and any one of the following: tiredness, cough, sore throat, muscle pain, runny nose or congestion, wheezing please keep them off school for at least 5 days. Pupils should:
Rest at home
Take medicines such as paracetamol to relieve the symptoms, children under 16 should not be given aspirin or flu remedies containing aspirin.
Drink plenty of fluids
We will continue to work with our health colleagues to closely monitor the situation and keep you informed.
We have, however, taken the decision to postpone xxxx
Parents may find the following link helpful in giving advice on flu. http://www.nhs.uk/Livewell/winterhealth/Pages/Fluandthefluvaccine.aspx
Yours sincerely
Ofsted Report 2018
On March 6th & 7th, St Ambrose Catholic Primary School was inspected by Ofsted. We have been judged a Good school and we are very proud of our success!
This is an extract from their report.
"This is a good school.
The headteacher and her senior leaders have a clear understanding of the school's strengths and weaknesses and are determined to continue to improve the quality of education at the school.

The curriculum is broad and balanced and contributes successfully to the good progress that pupils make.

The quality of teaching across the school is good. Teachers use questioning effectively to enable most pupils to develop their knowledge, skills and understanding in a range of subjects.

Pupils feel safe in school and know how to keep themselves safe.

Pupils behave well around school and in classrooms. Teachers and leaders deal swiftly with the few incidents of misbehaviour.

Attendance rates remain close to the national average. Leaders work effectively with other agencies to reduce the proportion of persistent absenteeism.

Governors are supportive of the school, know its strengths and weaknesses and contribute to its continuous improvement.

Leaders have used professional development and training opportunities within the school and in partnership with other local schools to improve the quality of teaching.
Children in the early years make good progress. Most of them are ready for Year 1 by the time they finish their Reception Year.

Across a range of subjects, almost all pupils make good progress from their different starting points.

Disadvantaged pupils make good progress due to well-planned interventions. Although their attainment is improving over time, the difference from that of others nationally is still too great.

Teachers occasionally do not give work that challenges the most able pupils. Proportions of pupils attaining the higher standards are not high enough.

Success criteria in the school development plan and in teachers' performance targets are not sharp or measurable enough to allow the school to hold staff to account for pupils' achievements.

Subject leadership is in the early stages of development as new leaders begin to implement their plans for their subjects. However, leaders do not yet know how well pupils are achieving in subjects other than English and mathematics.

The local authority provided effective support to leaders and governors, enabling leaders to improve progress and attainment in 2017.
LENTEN FUNDRAISING
On Friday 23rd March, Reception and Nursery will be holding a jam jar tombola to raise money for our chosen charities. Donations of jam jars filled with sweets or other bits and pieces will be gratefully received.
SCARLET FEVER
Dear parent / guardian,
We have been informed that a small number of children in the borough of Stockport have been diagnosed with suspected / confirmed scarlet fever.
Although scarlet fever is usually a mild illness, it should be treated with antibiotics to minimise the risk of complications and reduce the spread to others.
The symptoms of scarlet fever include a sore throat, headache, fever, nausea and vomiting. This is followed by a fine red rash which typically first appears on the chest and stomach, rapidly spreading to other parts of the body. On more darkly-pigmented skin, the scarlet rash may be harder to spot, but it should feel like 'sandpaper'. The face can be flushed red but pale around the mouth.
If you think you, or your child, have scarlet fever:
 see your GP or contact NHS 111 as soon as possible
 make sure that you/your child takes the full course of any antibiotics prescribed by the doctor.
 stay at home, away from nursery, school or work for at least 24 hours after starting the antibiotic treatment, to avoid spreading the infection.
Complications
Children who have had chickenpox recently are more likely to develop more serious infection during an outbreak of scarlet fever and so parents should remain vigilant for symptoms such as a persistent high fever, cellulitis (skin infection) and arthritis (joint pain and swelling). If you are concerned for any reason please seek medical assistance immediately.
If your child has an underlying condition which affects their immune system, you should contact your GP or hospital doctor to discuss whether any additional measures are needed.
You can find more information in the attached Frequently Asked Questions (https://www.gov.uk/government/uploads/system/uploads/attachment_data/file/338368/Scarlet_fever_Q_and_A_factsheet.pdf) and further advice can also be obtained from the Health Protection Team on [0344 225 0562 (option 3)] during office hours.
Anti-social behaviour projects
Our neighbourhood policing team have been given an opportunity to put funds back in to Asdwood & Bridgehall using money seized from criminals.
"Giving Back" is an opportunity for local residents, organisations and groups that can help tackle antisocial behaviour in your community.
We need to hear ideas for innovative projects that could help tackle antisocial behaviour and make the area you live in the best place it can be.
Think you have an idea or a project you're involved in/are currently organising that could fit the bill?
For more information on "Giving Back" in Stockport or to submit an electronic application form please email stockport.central@gmp.police.uk
Paper applications can be picked up & dropped off at Bridgehall Community Centre, Adswood Community center, Abacus or Bridgehall Police Post.
Applications close midnight on 8 February 2018, after which a public event will be held for those who are successful at the application process to pitch their idea to the public:
12noon - 16:00 on 3 March 2018 at Adswood Youth center.
At the main event there will be a free mini buffet, DJ and other fun entertainment.
Flu Season
Dear parents/ carers
As you are aware there has been cases of Flu confirmed at a Stockport school. While there are no cases in our school at this time we want to ensure that our children remain healthy and take every precaution against the spread of the virus. We have increased the cleaning levels in school and have given pupils information on good respiratory hygiene regimes. The following link gives further information on Flu.
http://www.nhs.uk/Livewell/winterhealth/Pages/Fluandthefluvaccine.aspx
In our school children are given the advice
CATCH IT – Cover your nose and mouth when coughing and sneezing and use a tissue
BIN IT – Dispose of dirty tissues and bin them immediately.
KILL IT – Maintain good basic hygiene e.g. wash your hands frequently with soap and water
I would be grateful if you could continue to promote these messages in your home.
If your child has any of the following symptoms: fever (37.8⁰C or higher) and any one of the following: tiredness, cough, sore throat, muscle pain, runny nose or congestion, wheezing, please ring to inform us of their absence and keep them off school for at least 5 days.
Thank you for your support
After school clubs will start on Monday 15th January:
Monday Years 5&6 Football
Tuesday Years 1&2 Dodgeball
Wednesday Years 1,2&3 Gymnastics
Thursday Years 3&4 Multi-sports
If your child has a place, a letter will have been sent home. There are still places in Football, Dodgeball and Multi-sports. Please contact the office.
D.E.A.R. Time - Drop Everything and Read Tuesday
At 3:10 pm EVERY Tuesday we will all participate in D.E.A.R.
You can take out your own story/fiction book.
Please have your own story /fiction book with you every Tuesday.
If you do not have a story/fiction book, you will have 1 minute to select one from the 'Tuesday' box.
We will silently read. That means no voices, no drawing, no writing, no drinking water. Just reading!
All the Teacher's and Teaching Assistants will be reading a children's fiction book as well!
Which book would you recommend to your class?
Bishop Mark's visit to school
Today Bishop Mark came to visit our school. We had a lovely assembly where the children got to ask the Bishop some questions and he met both staff and children throughout the morning.
Below are some photos of the Bishop with the School council.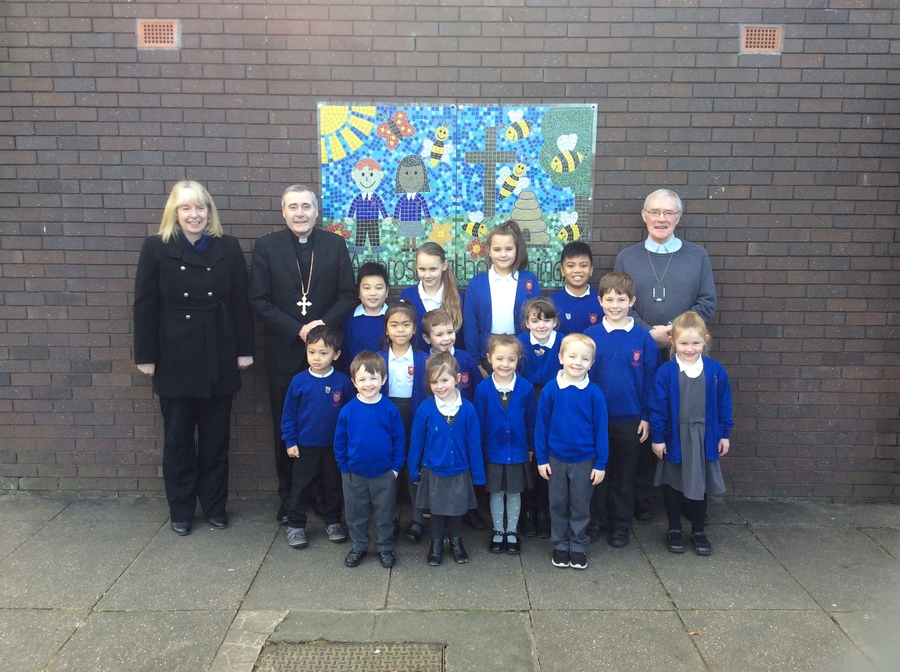 A letter from Bishop Mark
Please see the attached letter from Bishop Mark regarding the Government's faith-based admissions cap on new Catholic schools.